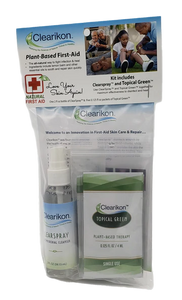 Clearikon™ recently introduced its convenient, all-natural first aid kit, featuring Topical Green™ and ClearSpray™. The kit is ideal when you need a first aid burn cream, eczema ointment, or to treat a non-healing surgical wound. Topical Green™ and ClearSpray™ Antimicrobial Cleanser are designed to be used together. They contain all-natural ingredients that limit bacterial growth and promote skin healing without antibiotics, steroids, or prescription medications.   Made with the Science Your Body Naturally Uses to Accelerate Infected Wound Healing Each ingredient is based on extensive, methodical research and peer-­reviewed scientific publications. The results represent a ground-breaking advancement in innovative skin...
---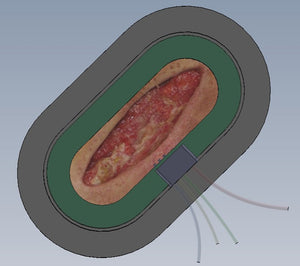 The Clearikon™ bandage can be used for all forms of wound repair, from surgical wound healing to wound care for diabetic foot ulcers.
---
Clear Care Products CEO Karl R Zawoy presented an overview of Clearikon Equine Therapy the Ocala Center for Economic Partnership meeting  last August 2021. Jody Read the CEO of Simple Elements and Bettina Gates Stephens from Legacy Farm Healing also presented the advantages of Clearikon products to disinfect against Equine Herpes virus (EHV-1) and how to treat and heal wounds in record time. You can see Case Studies on how Ocala veterinarians such as Dr. Carolin Von Rosenberg treating Equine wounds in Ocala at Buena vista Farm in Ocala.  Learn more about our Case Studies at our Clearikon Equine Therapy website. The CEP Equine Initiative Group meets on the third...